Brad Kemp is a freelance music director in Chicago. For those who don't understand what that is, it's fine, he encounters that a lot. Ever been to an improv or sketch show with a piano accompaniment? That's a music director. "If I have to make the Laura Hall reference, I will," says Kemp, "because that's what people get." Kemp has also written/collaborated on three full length staged musicals, not counting the dozens more that live unseen and unheard in folders on his desktop.
Like most freelancers, Kemp often splits his time between working from his apartment and being onsite for various gigs. I caught him at home a few weeks ago to chat about his current workspace and his upcoming aquatic workspace on a Norwegian Cruise Line ship with The Second City.
The Work
When did you discover this was a thing you could do?
I went to Columbia with the hopes of writing/composing musical theatre. After my freshman year, I met another student who was the head music director at pH and she literally just asked me if I wanted to music direct for improv. There's not really a program you take for music directing for improv–someone just trains you. It's very old west–someone takes you, they teach you a trade, and then you take over where they left off.
The Work Day
What are the largest challenges you face working for yourself and working from your home?
Motivation. Motivating yourself to get work done and not procrastinate is absolutely the worst. Here, when I sit and work I'm like "I'm gonna do work," but then the TV is right there. So, I turn on the TV thinking I'll watch something as I work…but eventually you're just watching TV. Motivating yourself to actually get things done is probably the hardest thing.
The Workspace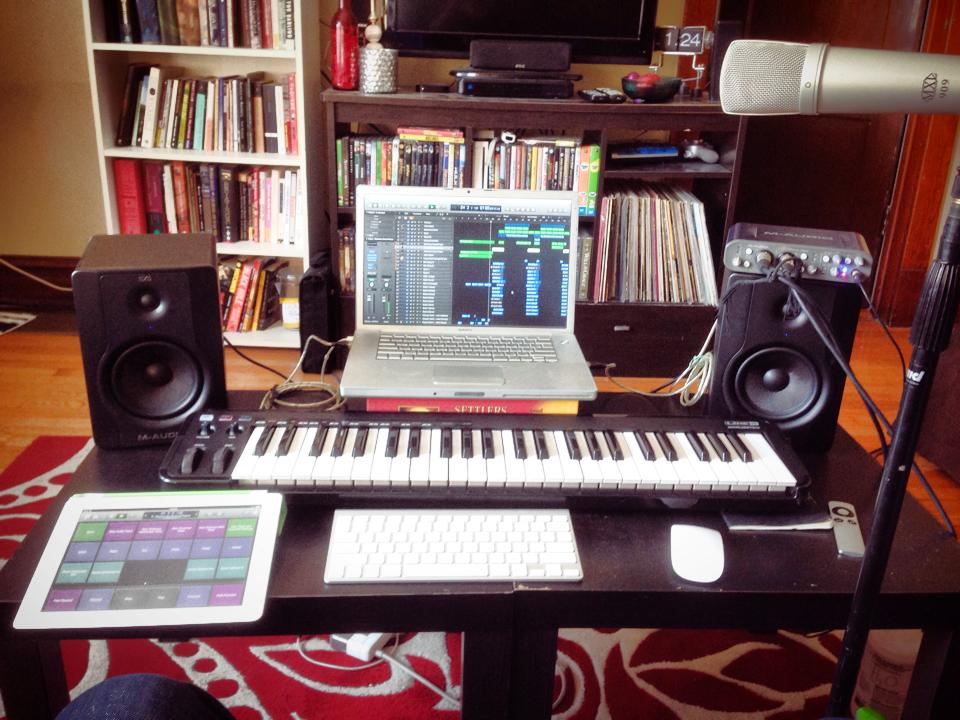 You have a desk in your room, why do you work out here in the living room?
The reason I don't use my desk is probably half because I don't have a chair. I have to sit on the edge of my bed to work on it and the idea of that is just too awful. So, half that I don't have a chair, half that I don't want to work in my bedroom. I like being in an open space and having my piano. At my old apartment I set up a desk in the back porch just to give myself a place to go to work and then I could come back and live and enjoy my life.
You have a roommate so, do you have to clear all of this up at the end of the day?
Yeah, it's really annoying. I have to tear down and set up every time I have to use it. I don't want to leave this out when my roommate gets home because he wants to use this as a coffee table…because that's what it is.
It may just be because you're in a shared space, but your space is very clean. Are you usually pretty organized? When you eventually have a separate office and desk will it only hold things you need or are you a tchotchke person?
I'm a little of both. When I did use my desk I kept it pretty clean. Even out here, with remotes, I'd rather have my workspace clean and everything organized. But I also used to have little things like a tiny bottle of sand from somewhere I had been, a candle, a picture. I like having little nice things that keep it my desk and not just a bland workspace.
What is important to you in a creative environment? Whether it is your workspace or just a brainstorming/collaborative space.
I'm a huge fan of things to distract you…kind of. Like the basketball hoop in my kitchen. You just kill time, bounce ideas off of each other, play basketball and talk. It's a nice thing to do to keep you busy and generating ideas without getting stir crazy at your desk. Nothing to distract in a lazy sense, like a TV, but things to keep you physically occupied while your brain is working.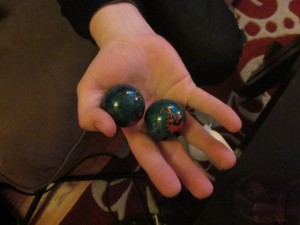 It's the reason I bought these bell ball things–the biggest waste of money ever, but I use them a decent amount. It keeps me from getting fidgety. Stephen Sondheim once said that he specifically uses very soft leaded pencils because it forces him to get up regularly to sharpen them. It's just a thing to do instead of writing; something to distract you so you don't get frustrated when you're stuck.
How do you keep organized?
I'm all digital, with the exception of sketch shows because they change so much during the writing process. But in general, I always have my iPad, everything I do is in my calendar, I leave emails marked as unread until I'm going to have time to reply to them, everything computer is in folders–folders for theater companies, folders for projects within that company, folders for lyrics, songs, ideas within that project. All of my apps on my phone are sorted into folders. I literally have everything on the first screen, all in folders, which is crazy. Nobody does that!
So this isn't even your ideal workspace. If you had a real office space, what would it look like?
As you can tell, I'm a huge fan of stuff. Not all of this is mine, but I like having stuff on the walls. I don't like empty spaces. Like when you go to an 'adult' apartment and everything matches and there is A book out. My reaction is "Where is all your stuff? Where is your bookshelf full of stuff?" So definitely things on the walls. Very comfortable. If I ever have a studio I would want it to have a couch, a basketball hoop and things to do that are fun. I'd want to hang out in there and then, because I'm hanging out, it would make me want to be creative.
You're producing a full-length comedy hip hop album with Handsome Naked, where do you record?
In the bathroom with a comforter over my shower door and then a microphone in front of that. It's very interesting when people come over for the first time and I say, "Alright, go int he bathroom, and our door is broken so you have to lock it to keep it closed. So, lock yourself in the bathroom…and rap."
What are you listening to right now?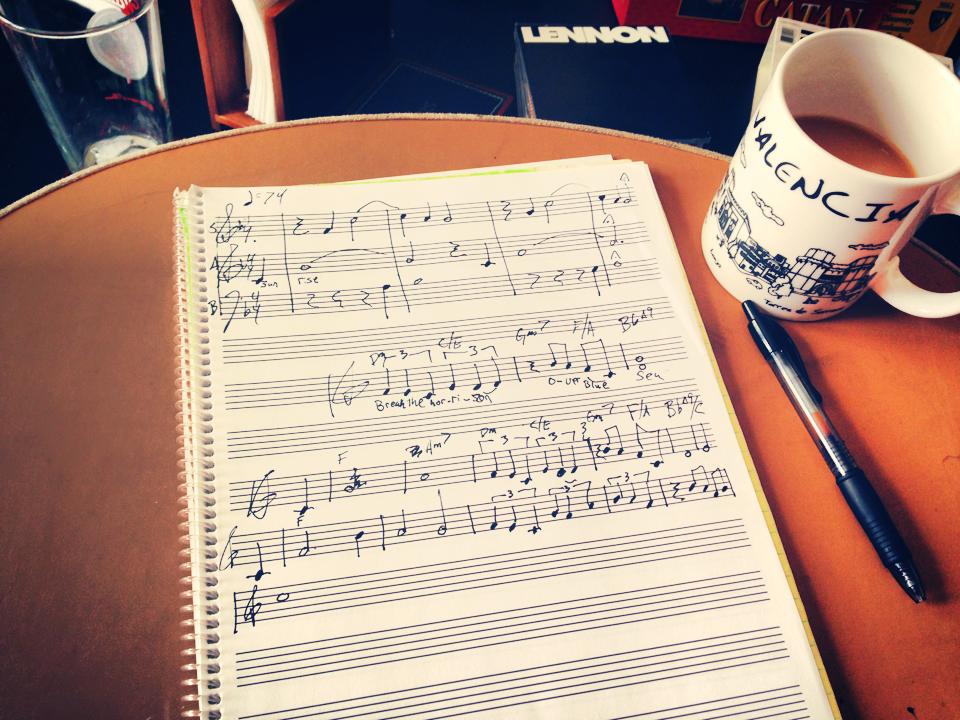 The Frozen soundtrack and a lot of Yeezus. [Yeezus] is not even new anymore but the production is so leading edge that there isn't going to be anything like it for another couple of years…until Kanye releases his next album. I also have been listening to a lot of my own stuff — if the type of musical theatre I write is emulating my favorite shows, and I do it well, then my music should be my favorite to listen to.
Find his work
Handsome Naked's first full length album, Chicago Style, dropped April 1st, 2014. The album is available for free download on Handsome Naked's Soundcloud page and features Handsome Naked members Eric Oren, Aaron Chucho Perez and Brad Kemp in addition to countless Chicago comedians and artists.
Brad Kemp performs every Saturday night with pHamily The Musical and Pitch Please (limited engagement) at pH Comedy in Andersonville. He also plays with The Improvised Sondheim Project, music directs Anarchy, an improvised rock opera, and teaches at The Second City, pH and Mint Prov. He will be performing alongside other Second City performers on Norwegian Cruise Lines from April to August.
His fourth original musical comedy, Don't Pass Go, opens at pH Comedy in August. Don't Pass Go explores the game monopoly and more specifically the four levels of wealth exhibited on the four sides of the board.
You can find Brad Kemp online at BradKempMusic.com, on Vine and @BradKempMusic on Twitter.
If you would like to be featured on the Creative Spaces series, please contact me.
Tagged with: brad kemp • brad kemp music • chicago comedy • Chicago style • composer • creative spaces • freelance chicago music director • freelance copywriter • freelance music director • handsome naked • music director • ph comedy • the second city